The world of NFTs is rapidly growing and expanding, and now, with the launch of WawStreet, we have a fantastic new platform for artists and collectors to come together and showcase their unique and valuable digital works of art. With over 20 artists already on board, including the talented Midam, known for his Kid Paddle illustrations, WawStreet is making a big splash in the NFT world.
"And the cherry on top? My Py Pug collection on WawStreet platform was featured in the Trends Tendance Article , appearing as a screenshot in the article! I'm honored to be a part of this innovative new platform.".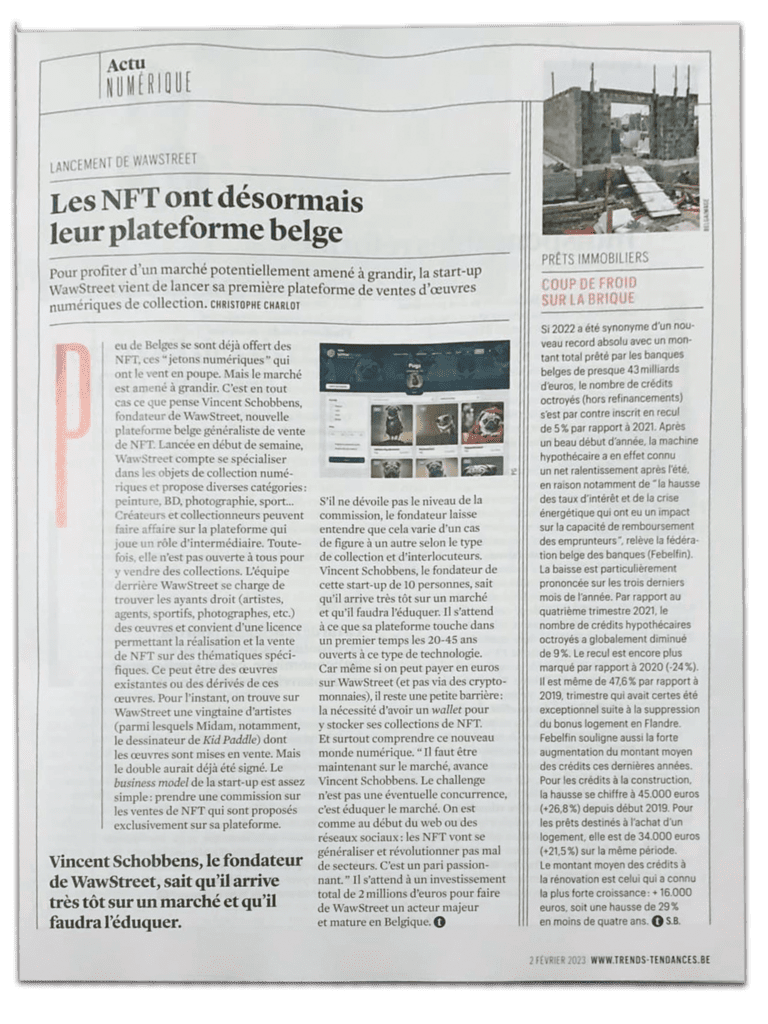 WawStreet is an all-in-one NFT platform, specializing in digital collectibles of all kinds, including paintings, comic books, photography, sports, and more. The platform acts as an intermediary, connecting artists, collectors, and others to make NFT transactions seamless and easy. And while payments can be made in euros, not just cryptocurrencies, WawStreet understands that this new world of NFTs can be intimidating for some. That's why the team behind the platform is working hard to educate and support users, ensuring that everyone has the chance to participate and be a part of the NFT revolution.
So, what are you waiting for? If you're an artist or collector looking for a new platform to showcase and sell your work, be sure to check out WawStreet. And if you're simply interested in discovering the world of NFTs and all the amazing art that's being created, this platform is a must-see.
Don't miss out on the opportunity to be a part of this exciting new movement in the world of NFTs. Head on over to WawStreet now and see what all the buzz is about!
So proud to be a part of it, `
Jax

Checkout https://wawstreet.com/view-collection/45
"Join the NFT revolution in Belgium! WawStreet has an incredible collection of NFTs from top Belgian artists. Spread the word and share this post with your network. Let's bring NFTs to a wider audience and ignite the magic of this digital world together. Share on social media, WhatsApp, or even over a coffee chat. Your support will help drive the growth of this amazing platform. Don't hesitate, hit that share button now and start the buzz!"
Source